Yo!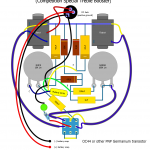 I don't know if any of You are familiar with Pigdog Pedals… If not – You should! Steve's work are always true art of work – for ears and for eyes, as well.
Here's lovely point to point layout for Pigdog Driver, which is… Yes! Treble Booster with added input capacitors blend. This allows to achive stock treble booster tones or even full boost! Additionaly output cap is increased. All other circuit components values are stock. There where builded 11 units in total and few more in smaller enclosure.
All Drivers are filled with mojo parts and rare germanium transistors and dedicated to british racing legends.
Some even sports legendary yellow Mullard OC44 or ultra rare OC70!
Have fun!
UPDATE 24/03/2012
Added tagboard version – get the project file here [.pdf]
It's not the same layout as used by Steve in his Mini Drivers, but has the same specs.
Peace!
b.man