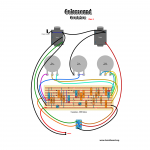 Two different effects, shared (almost) the same component layout.
Very lush sounding units I must admit.
As most of effects from Colorsound line classic and adored!
Power Boost was recently reissued by Macari's with Castledine  Electronics colaboration
Transistor info: Factory schemo shows BC109C's but AFAIK those ware never seen in reality. What we see usually is BC169B's or BC349B (and mix of both) in vintage units, and reissues with BC184L (also seen in vintage Powerboost) or BC184C. Use any NPN Silicon's with similar spec.
Big hug and high fife to monkeyxx from FSB forum for cool mod ideas.
What you get below is two versions of Power Boost named as Early, and Later spec, and an Overdriver. Another three docs contains the same shit, but in different flavor as per monkeyxx instructions – added master volume control, changed drive pot taper.
Taste it, you'll love it
Modified:
– Power Boost Early Spec (Monkeyxx Mods)
– Power Boost Later Spec (Monkeyxx Mods)