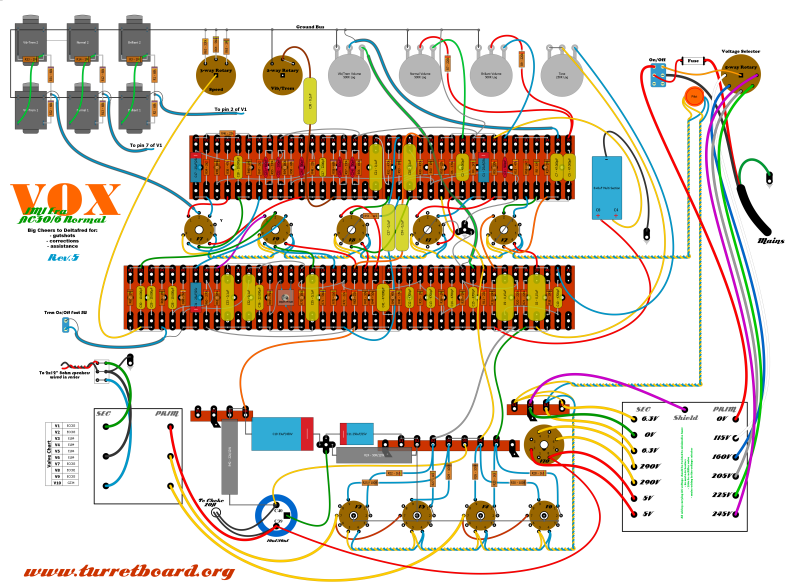 Before we start!
Bear in mind I'm a passionate only, and I only get started in tube world. It means – I can't guarantee proper functioning of my amp layouts. You must remember that high voltage stored in – even switched off tube amp can kill!!! Either way, my draw can be good start for your own research, and I hope it will. All my amp layouts are shown here as my private educational journey and historical research, and can't be used by any as a DIY projects.
Enough blabla-ing… Now the fun stuff.
I was always loving pushed to the limits VOX AC30 tone, and hate the fact that there is no replica layout on the interweb, so I did one. Ow course I've fuck it up big time as a newbie… Happily, there was a very kind British Gent, member of my beloved freestompboxes.org who had one of those and was able and happy to help. Richard (is his name) took a lot of his private time to spell me every small detail to complete this documentation, including original grounding scheme. Richard is THE MAN!
Project Revision 6 (09 November 2012):
So I decided to redraw it again. Current layout have the part numbers fixed – now they match factory schematic. Power amp section is now fixed (it wasn't bad, all connections was right, as per schematic, but the valves was in wrong order, now it's exact as in vintage units. Valve chart is fixed to, it was really messy before, now the valve layout/numbering matches the real thing. Few other details was also pimped, mainly cosmetic crap…
Project Revision 7 (18 Oct 2013)
Fixed B+ supply to Vib/Trem channel, connection between R39 and R60 was missing. Apart of that – layout is verified. Thanks to Matt (Masco) for locating the problem, and to Charles for project verification
Here's two layouts in PDF format:
– JMI Era VOX AC30/6 Normal REV7
– JMI Era VOX AC30/6 Bass REV7
Treble Version, redrawed schematic and more text to be fallow
UPTATE: I would like to bring to your kind attention that the AC30 Chassis and faceplates are available at www.valvepower.co.uk – UK Based Retailer. Email Steve for pricing and availability