So… I have a lot of nice bigass ceramic caps and Ramshead build in mind, also 4pcs of 2N5133 new old stock with gain above 500hfe is here waiting. I did this layout with my parts selection in mind. I could track the grounding better but I decide to live it like that as the part layout is what I'm fancy with. I'll run the jumper to connect the grounding points together.
I was drawing this from the layout found on Kit Rae's website (awesome BMP info source). This layout is not verified for now.
Edited 10.04.2011: Old file deleted, new layout added. This is basically exact the same thing than before, but with better component routing. Input is closer to ground so using shielded wire is easier now. I like this layout way better now, I hope you feel the same 🙂 Also this one is smaller, even more than my Triangle Muff. Could be even more compact, but I still want to use my ceramic caps.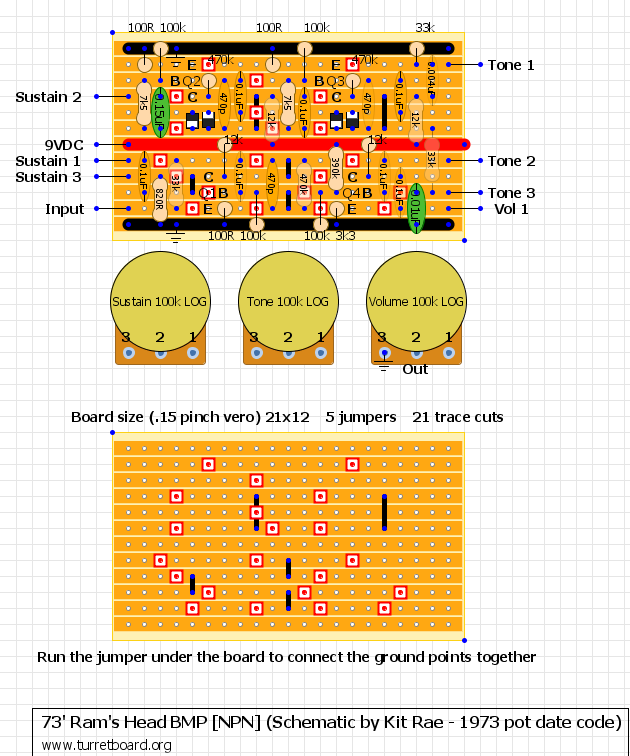 Edited 12.04.2011: I've spend some time today to make my Muff's smarter. I've end up reducing two grounding points to only one, and make it even more compact (21×11 – I've never seen stripboard BMP that tinny)! Also LED limiting resistor is added to the layout. I think this is the final version 😉