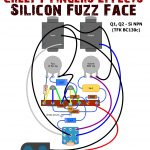 Yo!
Here's lovely tagboard layout for si fuzz face clone made by Brad from Creepy Fingers Effects for charity auction where 100% of the proceeds of auction will go to Naoto Matsumura and Tomioka's animals. Very cool initiative and very nice fuzz face layout on single tagboard. Love it!

Small mods in circuit – added 10R resistor between Q2 emitter and fuzz pot plus small ceramic cap 39pF to lower noise and prevent oscilations on higher fuzz settings.
Transistors are TFK BC130c.
Get the project file here [.pdf]

Enjoy!
b.man
PAGE UPDATE 18/04/2012
Corrected layout updated.